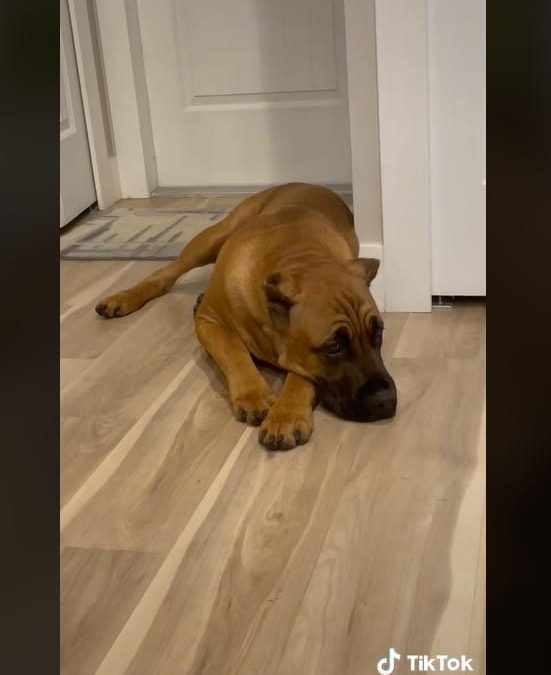 The Internet Is Heartbroken Watching A Video Of A Dog Missing His "Daddy"
FacebookTwitterSubscribe
"This post contains affiliate links, and I will be compensated if you make a purchase after clicking on my links."
Viewers are heartbroken as they see a video of a dog's sad response to learning its "daddy" won't be home that night.
In the video, Tyson the cane corso can be seen slumping to the ground after being informed that one of his human parents will be "coming home tomorrow." You can watch the video here. It was uploaded to TikTok by the user name Tyson Corso.
Tyson can be seen waiting by the front door at the start of the video, looking forward to his "dad's" arrival. However, the dog's demeanor immediately turns to a sad expression after being informed that he won't be returning that night.
The camera zooms in on Tyson, showing his apparent sadness upon hearing this information. His "mom" says, "I'm sorry, baby," but the devastated dog, who appears to be as close to tears as a dog can be, finds little comfort in her words.
Even the assurance that "you get to sleep with mommy in the bed" is unable to lift him out of his gloom; as the clip comes to a close, Tyson is seen longingly gazing off into the distance.
The video has received 7.1 million views as of the time of writing, and for good reason. Many dog owners compare their bond to that of a parent and kid when talking about their pet.
A lot of pet lovers were moved by the video, commenting on the post. Elsa Maldonado45 commented: "He misses his daddy" with Scott Frecko adding they are "not called man's best friend for no reason." MichelleEricT said: "That sad look is killing me!" while xxkingclawzyjr agreed: "it's killing me."
A follow-up video was posted where Tyson and his "daddy" were happily embracing.