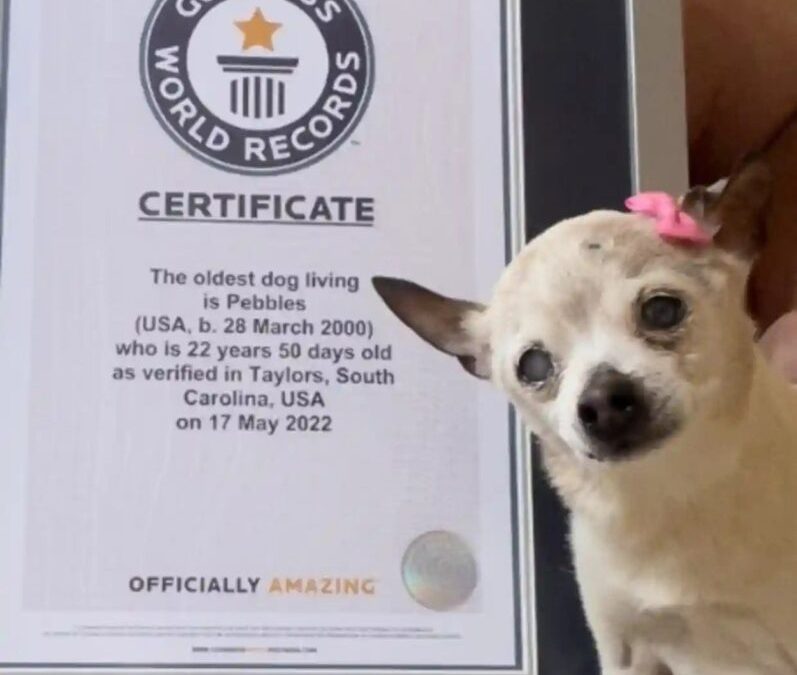 22-Year-Old Dog Unseats The Previous Holder As The World's Oldest Dog
52SHARESFacebookTwitterSubscribe
"This post contains affiliate links, and I will be compensated if you make a purchase after clicking on my links."
The 22-year-old toy fox terrier, Pebbles, was recognized by Guinness World Records on May 17 as the oldest living dog.
Owners Bobby and Julie Gregory of South Carolina saw the news of the recently named champion 21-year-old chihuahua from Florida, TobyKeith, and realized that their dog was older.
"Bobby was sitting on the couch and friends and family started texting and calling about a story they saw about a 21-year-old dog getting the record," Julie told Guinness World Record. "When I saw TobyKeith's story all over the news, I applied [for the record]."
In the year 2000, Bobby and Julie were looking for a large-breed dog but stumbled upon Pebbles instead. Julie said, "She was jumping and barking so much at Bobby that he had no choice but to pick her up and check her out. It was instant love the second the two met."
"She loves listening to country music while she is sleeping. Her two favorite country singers are Conway Twitty and Dwight Yokum," Julie said. "Most of the people that know Pebbles can't believe how long she has lived,"
Pebbles celebrated his birthday with a bubble bath, a meal of ribs and a cake.