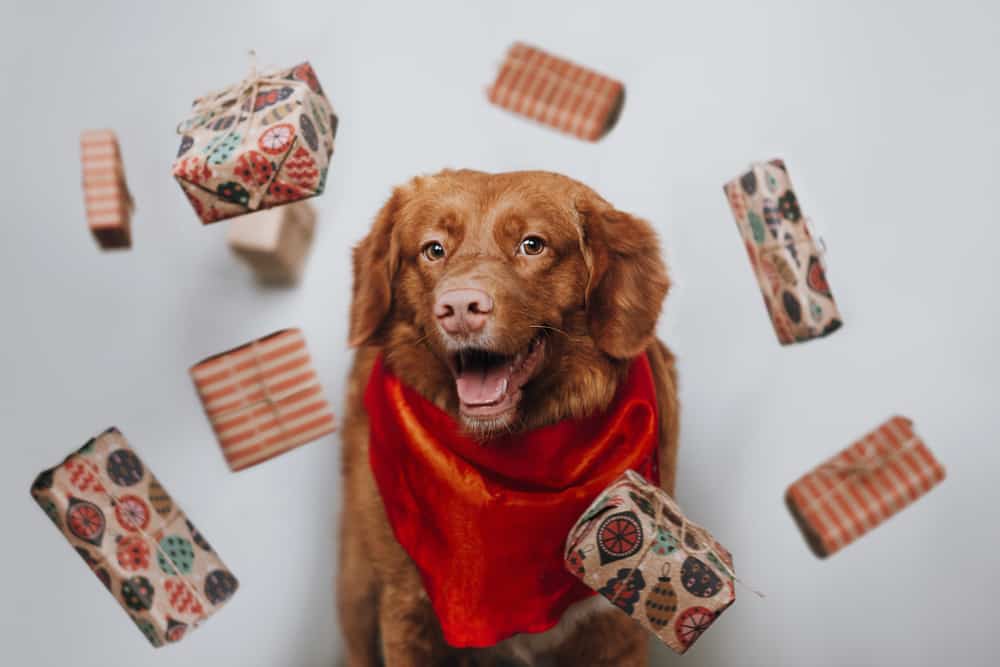 10 Under $10: Fun, Functional, and Fantastic Christmas Gifts for Dogs
426SHARESFacebookTwitterSubscribe
"This post contains affiliate links, and I will be compensated if you make a purchase after clicking on my links."
Giving gifts to friends and family is fun and, as your best friend and most loyal companion, that means gifting the dog, too! But, with supply chain shortages, higher prices for basic essentials, and rising costs of living, Christmas gift-giving can be a source of stress for many of us.
That's why we rounded up this list of ten fun, functional, and fantastic Christmas gifts for dogs—that won't break the bank this year!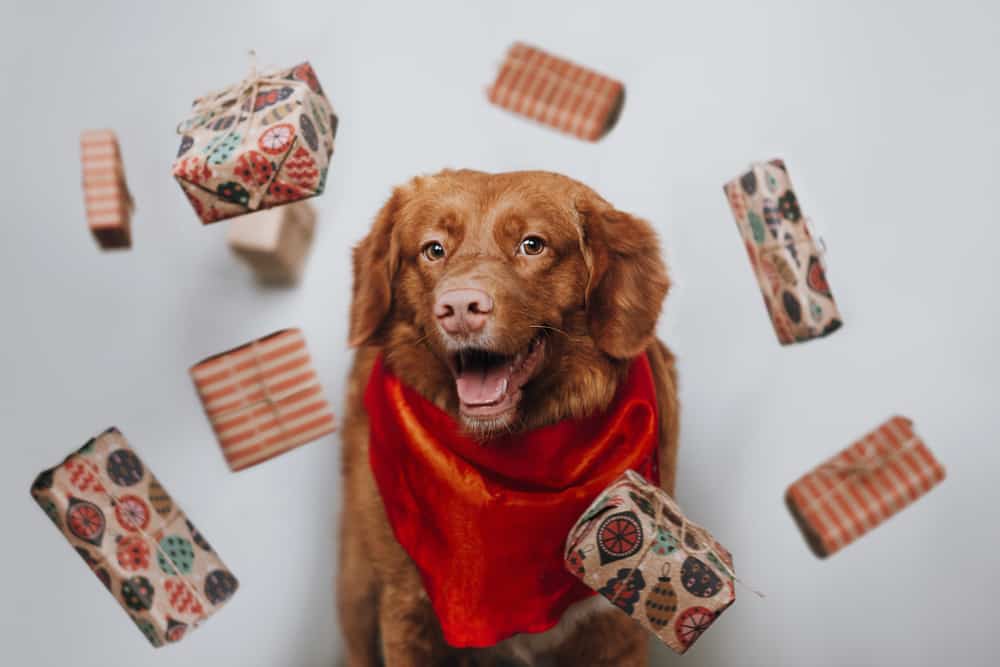 Your dog will look forward to these fun toys, tasty treats, and problem-solving gadgets—and you'll look forward to not breaking the bank to make them happy!
Read on for our top 10 under $10 Christmas gift picks for pups!
This post contains affiliate links. If you make a purchase after clicking them, we may get a small commission. The Dogington Post is dedicated to finding the best products for dogs and we will never recommend a product that we don't love.
goDog FurBallz will be your dog's favorite go-toy toy for playtime fun!
goDog Furballz feature silly, googly eyes and bright, fun colors to attract your dog's attention. The round shape is ideal for tossing and retrieving and the big, loud ball-shaped squeaker drives dogs crazy. Made with soft, fuzzy fur and lined with Chew Guard Technology, these toys stand up to tough play. Available in small and large for dogs of all sizes and breeds to enjoy. Even though no dog toy is indestructible, goDog toys with Chew Guard Technology are tougher and last longer than standard soft plush toys…and they GUARANTEE IT! If this toy does not outlast your standard plush, goDog will send you a replacement! BUY NOW
Himalayan Dog Chews are a safe and tasty alternative to dangerous rawhides.
Ditch the dangerous rawhide chews. Himalayan Dog Chews are safer and longer-lasting. Made by boiling yak and cow milk and then dried for several weeks to create a hard chew, dogs must work the end of the treat for hours, softening it with their mouths before small parts of it can be slowly scraped off. It is 100% natural, digestible, and made without preservatives. When you give this Himalayan Dog Chew to your dog, you know that you are providing them with hours of high-quality eating entertainment. BUY NOW
Nina Ottosson by Outward Hound interactive treat puzzle keeps your dog mentally stimulated and physically active while being rewarded!
The Nina Ottosson by Outward Hound Treat Ball is a fun alternative to slow-feed dog bowls that promote a healthy lifestyle for your pet. Add your dog's favorite treats or kibble in the dog toy ball, only allowing them to eat what is dispensed when they roll the treat dispensing dog toy. This food-dispensing dog toy promotes active feeding, giving your dogs the exercise they need, and then rewarding them for it! BUY NOW
Paw Soother balm to keep paws moisturized and protected against harsh weather.
Paw Soother is an all-natural balm that heals, moisturizes, and nourishes your pup's paws—especially important during harsh winter weather. This all-natural healing balm is formulated with ultra-nourishing ingredients like Calendula Extract, Jojoba Oil, Coconut Oil, Cocoa Butter, and Natural Vitamin E which leave paws smooth and healthy. BUY NOW
Stella & Chewy's Freeze-Dried Single Ingredient Treats are the indulgently delicious treat that's healthy, too!
Ideal for dogs with food allergies or sensitivities, Stella & Chewy's freeze-dried treats are natural, healthy, high-value treats that dogs can't resist. Available in beef, chicken, and lamb varieties, your dog will be begging for more of these delectable and nutrient-rich treats. BUY NOW
Outward Hound Squeaker Ballz add an extra layer of fun to fetch!
The Squeaker Ballz by Outward Hound combines your dog's two favorites, a tennis ball and a squeaky toy, into one exciting fetch toy! This multi-pack comes with a variety of bright colors that are highly visible and great for both indoor and outdoor fun. Pair with a launcher to extend playtime and give your pup the exercise they crave. Made with premium rubber material for excellent bouncing action. BUY NOW
Nite Ize LED Collar Light offers safety with style!
The Nite Ize PetLit LED Collar Light is a unique battery-powered LED that you can clip securely to your pet's collar, keeping him or her stylish and visible at all hours of the day and night. Made of durable plastic with a playful design or jewel crystal decoration, the bright LED light is easy to activate with a simple twist. It's a fun, yet reliable way to keep your furry friend safe and visible when you're out hiking, camping, running, walking, or playing in the park – and all other early morning or late evening romps. BUY NOW
A Huxley & Kent Peppermint Stripe Bow Tie will help your dog look their very best!
Don't leave your dog out when it's time to look your holiday best! Let them join the family for the fun festivities while wearing a Huxley & Kent Pet Bow Tie. This bow tie is great for a fun celebration or for those annual family photos! A hook and loop fastener is used for attaching to your dog's collar. BUY NOW
The Woofie makes selfies with your best furry friend fun and easy!
Time to pose for the pupperazzi! Getting a good picture of your pup or kit can sometimes seem im-paws-ible, but now you can hold your pet's attention with Woofie – the flexible silicone treat holder. Attach it directly to your smartphone or tablet, grab your pet's gaze and make him insta-famous! BUY NOW
Self-Cleaning Slicker Brush keeps your dog's coat looking and feeling great!
This Self-Cleaning Slicker Brush has a self-cleaning button that removes hair from brush. It's fast and easy. It reduces shedding up to 90-Percent and removes tangles, dirt and loose hair while stimulating skin and hair follicles. This brush reduces hair and vacuuming time around your house and helps spread natural oils through your pet's coat, making it glossy and healthy-looking. Anti-slip, easy-grip handle makes for safe and comfortable grooming. BUY NOW
Enjoyed this gift guide? Pin it!