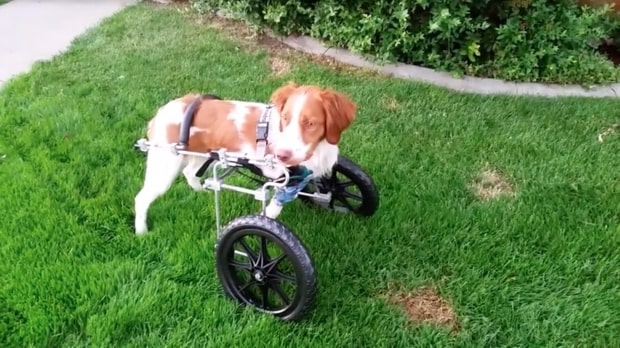 The Dog That Walks Like A Human After Being Struck By A Car
FacebookTwitterSubscribe
"This post contains affiliate links, and I will be compensated if you make a purchase after clicking on my links."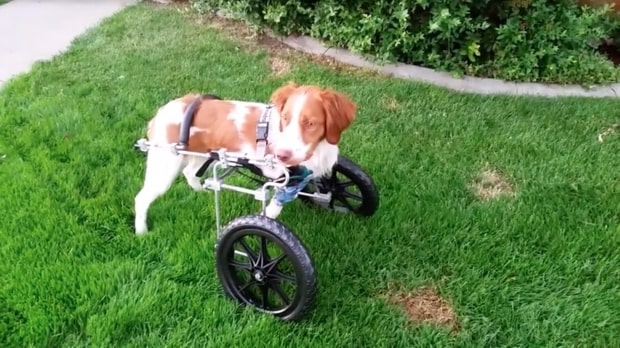 After a near-death experience, Dexter, a Brittany Spaniel, lost the complete function of his two front legs. Everyone thought he would never be able to walk again without any equipment, but they thought wrong.
Dexter living in Ouray, Colorado, was struck by a car when he was a puppy. He needed a wheelchair for a while, but he surprised his owner one day when Dexter walked up a flight of stairs without it.
Kentee Pasek, Dexter's owner, told CBS, "I ran in to go get my cup of coffee, came out … and I was like, 'How is this going on?\'"
She put Dexter at the bottom of the stairs after she had picked up her phone and started recording him as he walked down the stairs on two legs. Pasek said that Dexter visits the veterinarian regularly to have his joints and hips examined. The veterinarian agrees that this is the best course of action for Dexter to be happy and mobile.
Six years after that, Dexter has grown into a full-fledged celebrity. He is constantly appearing in parades and gaining a huge online fan base. People from all over the country now go to the dog's hometown to see Ouray's most famous resident.
He receives hundreds of letters a month expressing gratitude for the dog. One letter says, "I am recovering from intensive radiation treatments for breast cancer and you certainly bring joy to my day."
Dexter is an inspiration, showing that you can do things you never thought were possible.
"Dexter shows us, why aren't you out there writing the book you want to write? Why aren't you out there doing the things you want to do? Because he has," Pasek said.