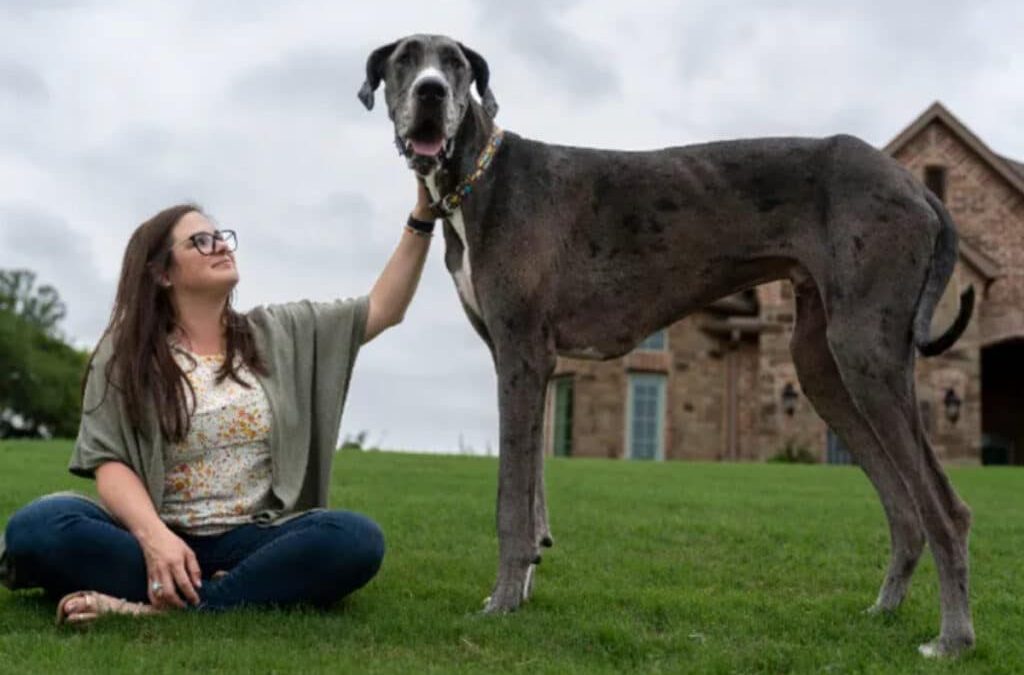 Great Dane From Texas Named As The Tallest Dog In The World
FacebookTwitterSubscribe
"This post contains affiliate links, and I will be compensated if you make a purchase after clicking on my links."
Guinness World Records has named a Great Dane the world's tallest living dog. Zeus, a two-year-old dog from Bedford, Texas, stands at 3 feet, 5.18 inches (1.046 meters), making him officially taller than most two-year-olds and officially the tallest in the world!
Owner Brittany Davis adopted Zeus through her brother's work colleague when the dog was just eight weeks old. "He's been a big dog since we got him, even for a puppy. He had huge paws," Davis told Guinness World Records.
Every day, Zeus eats 12 cups of "Gentle Giants" dog food, along with the occasional fried egg. He uses a sink for his water bowl, and according to Davis, ice cubes are his all-time favorite treat.
With his tall stature, Zeus is a local celebrity at the Dallas Farmer's Market. "The comment that we hear most often is 'Wow, that's a horse!,' 'Can I ride him?' or 'Does he have a saddle?\'" Davis said. "The answer to all those questions is 'no.\'"
Great Danes are known for their large size, but this also leads to different health issues, which is why they have a shorter life span than other breeds, living 8–10 years on average. The tallest dog ever recorded by Guinness World Records was also a Great Dane named Zeus from Otsego, Michigan, standing at 3 feet, 10 inches (111.8 centimeters). Sadly, he died at the age of five years old.