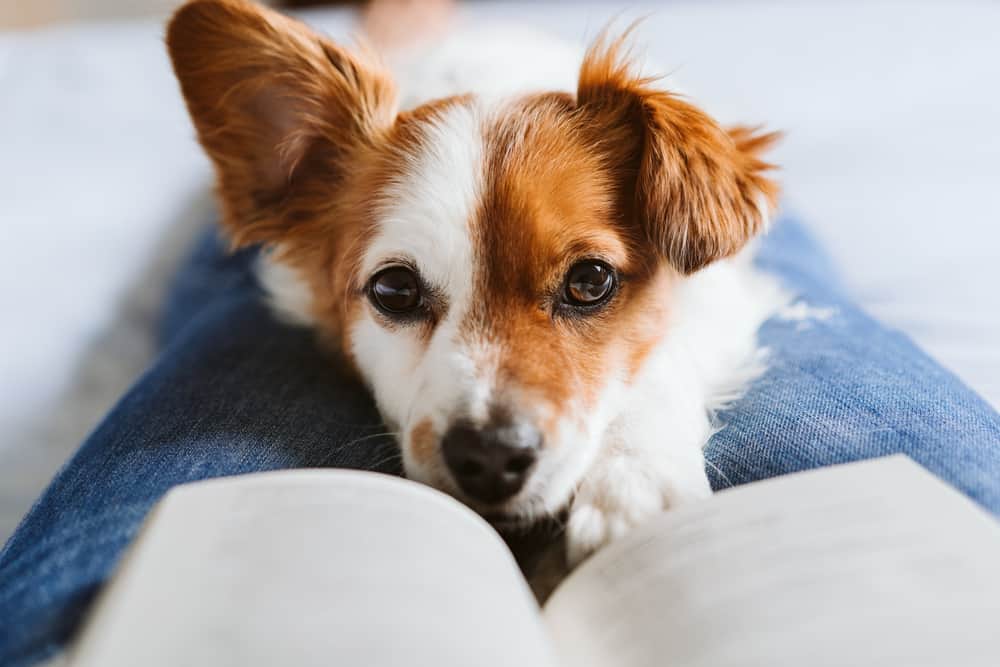 10 Dog Books You Must Read in 2022
414SHARESFacebookTwitterSubscribe
"This post contains affiliate links, and I will be compensated if you make a purchase after clicking on my links."
Whether you're looking for a heartwarming true story of loyalty and companionship or a simply-can't-put-it-down novel that'll inspire you to hold your four-legged best friends a little closer, you'll find it in this list of 10 new dog books to read in 2022.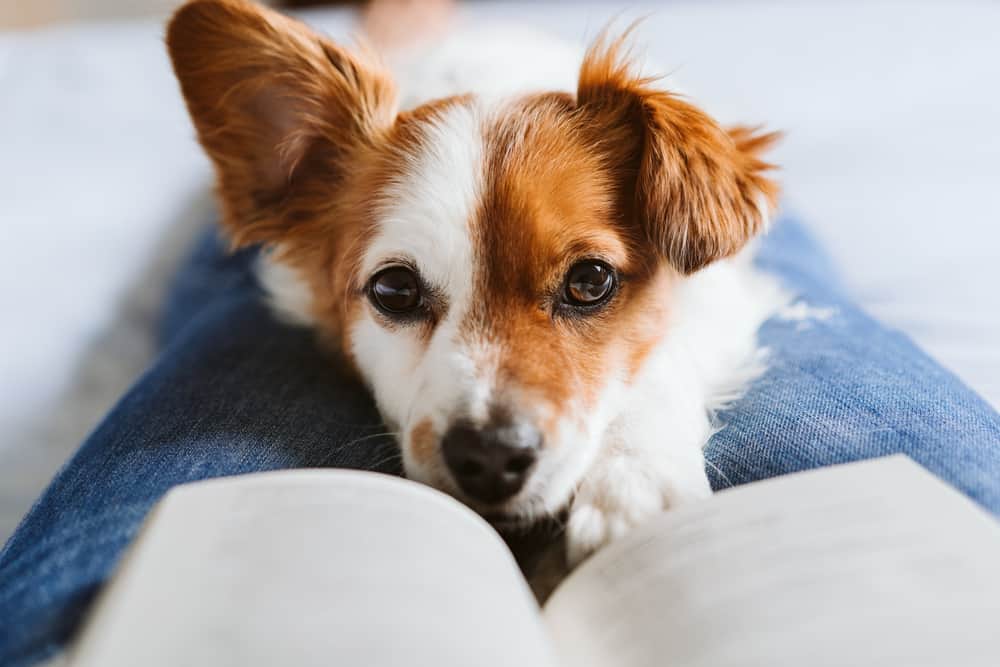 The Dogington Post is reader-supported. That means, if you make a purchase through links on our site, we may earn an affiliate commission. All images and names which are not the property of The Dogington Post are the property of their respective owners.
The Forever Dog
By Rodney Habib and Karen Shaw Becker
Among the most highly anticipated dog books of all time, The Forever Dog is an absolute must-read for anyone that shares their heart and home with a dog.
In this pathbreaking guide, two of the world's most popular and trusted pet care advocates reveal new science to teach us how to delay aging and provide a long, happy, healthy life for our canine companions.
With important information about diet and nutrition, exercise, environmental exposures, and stress reduction, the book details what you can do to extend your dog's life and improve their health and happiness. Bottom line, The Forever Dog is THE definitive dog care guide that every pet parent should have on hand.
Available on Amazon.com
The Speckled Beauty: A Dog and His People
By Rick Bragg
Speck is not a good boy. He is a terrible boy, a defiant, self-destructive, often malodorous boy, a grave robber and screen door moocher who spends his days playing chicken with the Fed Ex man, picking fights with thousand-pound livestock, and rolling in donkey manure, and his nights howling at the moon. He has been that way since the moment he appeared on the ridgeline behind Rick Bragg's house, a starved and half-dead creature, seventy-six pounds of wet hair and poor decisions.
Speck arrived in Rick's life at a moment of looming uncertainty. A cancer diagnosis, chemo, kidney failure, and recurring pneumonia had left Rick lethargic and melancholy. Speck helped, and he is helping, still, when he is not peeing on the rose of Sharon. Written with Bragg's inimitable blend of tenderness and sorrow, humor and grit, The Speckled Beauty captures the extraordinary, sustaining devotion between two damaged creatures who need each other to heal.
Available on Amazon.com
Dog Island
By Jil Johnson
"Willy stared out through the criss-cross wires of his cage. He had figured out a few things. One, being born a spunky Beagle wasn't always cookies and naps. Two, there was no way he was staying in this barbed wire apartment. And three, as he listened to the rows of dogs barking and howling, he wasn't going alone."
If you love an easy read that's equal parts heartwarming and heartbreaking, you'll love Dog Island.
And the best part?
Proceeds of the sale of this book support Beagle Freedom Project, a non-profit organization dedicated to ending the cruel and unecessary torture of Beagles in research labs.
Available on Amazon.com
All Dogs Are Good: Poems & Memories
By Courtney Peppernell
Written for anyone who has known the touch of a cold nose on their hand, the bark of a best friend, or the joy of a walk accompanied by a wagging tail, All Dogs Are Good pays tribute to the special bond we share with our canine companions.
Filled with heartfelt poems and prose on the love, dedication, and laughter our dogs bring, as well as the unique lessons they teach us along the way, bestselling author Courtney Peppernell's vignettes of life with our dogs are a touching reminder of the gifts they give us during their journey on earth.
Celebrating dogs everywhere, All Dogs Are Good is a collection dog lovers will hold in their hearts forever.
Available on Amazon.com
What Is a Dog?: A Memoir
By Chloe Shaw
Chloe Shaw is in a dog house of her own choosing. A married mother with kids, the death of Booker, her children's eldest family pet, has left her reeling and reckoning with her lifelong relationship with dogs. Unable to shake the feeling a year later, she asks her family for some time alone to be with nothing but her thoughts and remaining canines, Safari and Otter only to find the dogs of her past pawing at her every memory and running, sticks in mouths, back into her life.
What follows is a meditation on one woman's life through the dogs she's loved and lost. Since she was a child, Shaw had learned to escape the hardest parts of being human by immersing herself in the lives of her canine companions, an adaptive attachment that carried her to adulthood. Yet, in marriage and motherhood, Shaw finds herself facing her most human struggles yet. Her old ways of being the dog in the face of hardship prove destructive, and it's not until she's able to love herself and learn from the dogs of her past and present that can she truly thrive as a person, and show up for the family who needs her to be their person.
Available on Amazon.com
Pawprints On Our Hearts: How A Few Incredible Dogs Changed One Life Forever
By Kerk Murray
Pawprints On Our Hearts is a soul-stirring coming-of-age memoir unpacking the journey we experience alongside the animals we love from forging the unbreakable bonds of friendship to relishing the nostalgia of time passed too quickly. Together scaling the mountaintops of love and courageously descending into the deepest sorrows of loss. Discovering the purpose of our lives as we pause to revel in those extraordinary moments the ones that changed us forever, leaving behind who we were so that we could arrive at who we were meant to be.
You'll laugh and cry as you reminisce, connecting once more to the joys of loving and being loved by your animal companion. More importantly, you'll never be the same again.
How could you be?
Learning what it means to be human is the story of us all. But luckily, we have help along the way from these beautiful creatures who set the bar high and redefine what love ought to be. (Back cover)
Available on Amazon.com
Dog Knows: Learning How to Learn from Dogs
By Sindhoor Pangal
Dogs are usually thought of as obedient, loyal animals, but we don't always pay attention to their wide range of personality attributes and vast repertoire of communication signals. Dogs not only have advanced and nuanced ways of reaching out to other members of their own species but have evolved specialized skills to converse with humans as well.
Dog Knows navigates the journeys of several dogs, helping us decode the rich, complex social and emotional lives of dogs. What does it mean when a dog is not making eye contact or is growling slowly? How do street dogs learn to cope with fear or pick up communication skills and how can our pet dogs learn the same?
Based on behavioral and ethological research, Sindhoor Pangal uses engaging anecdotes to delve into the ancient, deep, and sometimes magical bond that dogs and humans share. Dog Knows is a book that any dog lover will want to have on their shelves.
Available on Amazon.com
Dog Is Love: Why and How Your Dog Loves You
By Clive D. Wynne
Does your dog love you?
Every dog lover knows the feeling. The nuzzle of a dog's nose, the warmth of them lying at our feet, even their whining when they want to get up on the bed. It really seems like our dogs love us, too. But for years, scientists have resisted that conclusion, warning against anthropomorphizing our pets. Enter Clive Wynne, a pioneering canine behaviorist whose research is helping to usher in a new era: one in which love, not intelligence or submissiveness, is at the heart of the human-canine relationship. Drawing on cutting-edge studies from his lab and others around the world, Wynne shows that affection is the very essence of dogs, from their faces and tails to their brains, hormones, even DNA. This scientific revolution is revealing more about dogs' unique origins, behavior, needs, and hidden depths than we ever imagined possible.
A humane, illuminating book, Dog Is Love is essential reading for anyone who has ever loved a dog and experienced the wonder of being loved back.
Available on Amazon.com
What a Dog Knows: A Novel
By Susan Wilson
Ruby Heartwood has spent her life running away. Away from the orphanage where she was left as a newborn, away from those who exploited her, and away from the man who raped her. She ran from child welfare authorities as a runaway and teenage mother. She's never stayed put. She's never felt connected. Until now.
Ruby is a psychic, a fortune teller. She has spent most of her life working at street fairs, carnivals, and the odd Renaissance Faire. Of late, her abilities to tell a person's fortune have been declining. One night she pulls off the road during a violent thunderstorm, sheltering in her Volkswagen Westfalia. At the storm's height, a bolt of lightning leaves Ruby shaken and changes her life.
As the storm clears, Ruby finds a visitor sitting outside her van door: a little dog who says, quite distinctly, Let me in. Ruby has woken up able to hear the thoughts of animals, so she adds that to her list of psychic offerings and signs up for the Harmony Farms Farmers' Market and Makers Faire.
With the little Hitchhiker, her fast friend and her familiar, Ruby finds herself lingering in Harmony Farms. At the same time, she is haunted by dreams that lead her to wonder if she hasn't been running away all this time, but running toward something or someone.
Available on Amazon.com
Piglet: The Unexpected Story of a Deaf, Blind, Pink Puppy and His Family
By Melissa Shapiro, DVM with Mim Eichler Rivas
When Connecticut veterinarian Melissa Shapiro gets a call about a tiny deaf blind puppy rescued from a hoarding situation in need of fostering, she doesn't hesitate to say, yes. Little does she know how that decision will transform her, her family, and legions of admirers destined to embrace the saga of the indomitable pink pup.
One of the most anxious dogs Melissa had ever encountered, the traumatized Piglet weighed under two pounds upon his welcome into the Shapiro household which included Melissa's husband Warren and their three college-aged kids, plus six other rescued dogs. After weeks of reassurance, and lots of love, Piglet connected, gained confidence, and his extraordinary spirit emerged. Melissa soon forged a powerful bond with Piglet, allowing the two to communicate without sound or visual cues.
Two months later, when the day arrived to say good-bye to the now dashing, six-pound pink boy dog with the larger than life spirit, Melissa faced a heart-wrenching decision. Could she hand him over to someone willing to give Piglet the full-time attention he required or could she adapt her schedule and her household to make a permanent place for him in her life and work? Of course, the answer was simple: love would find a way.
Curious, engaged, and incredibly eager to learn, Piglet quickly became part of the family. What started out as a few simple Facebook posts of Piglet and his pack rapidly evolved into a global celebration of Piglet's infectiously positive mindset. Piglet: The Unexpected Story of a Deaf, Blind, Pink Puppy and His Family fully illustrates this heartwarming story of one special little puppy with a purpose to teach the power of empathy, love, and kindness.
Available on Amazon.com
If you're an avid reader and a lover of all things dog, don't miss our favorite dog books from 2021 and our favorite dog books from 2020, too!
Enjoyed this article? Pin it!