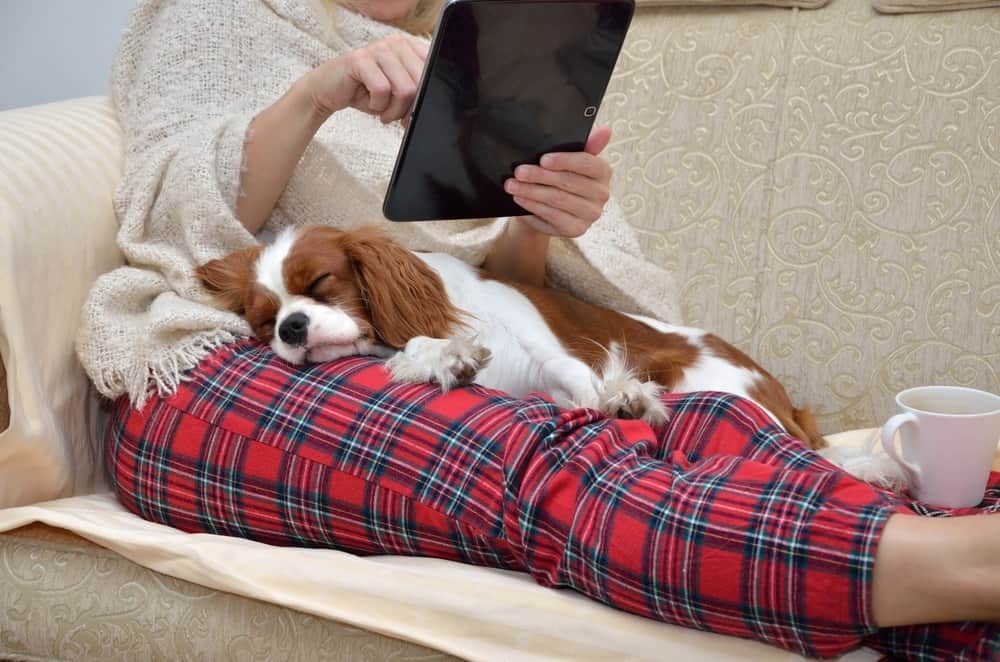 INFOGRAPHIC: The Best Dog Breeds for Apartment Living
114SHARESFacebookTwitterSubscribe
"This post contains affiliate links, and I will be compensated if you make a purchase after clicking on my links."
Apartment living doesn't mean you have to become a cat person! In fact, many dogs – of all breeds and sizes – fit right at home in multi-family dwellings!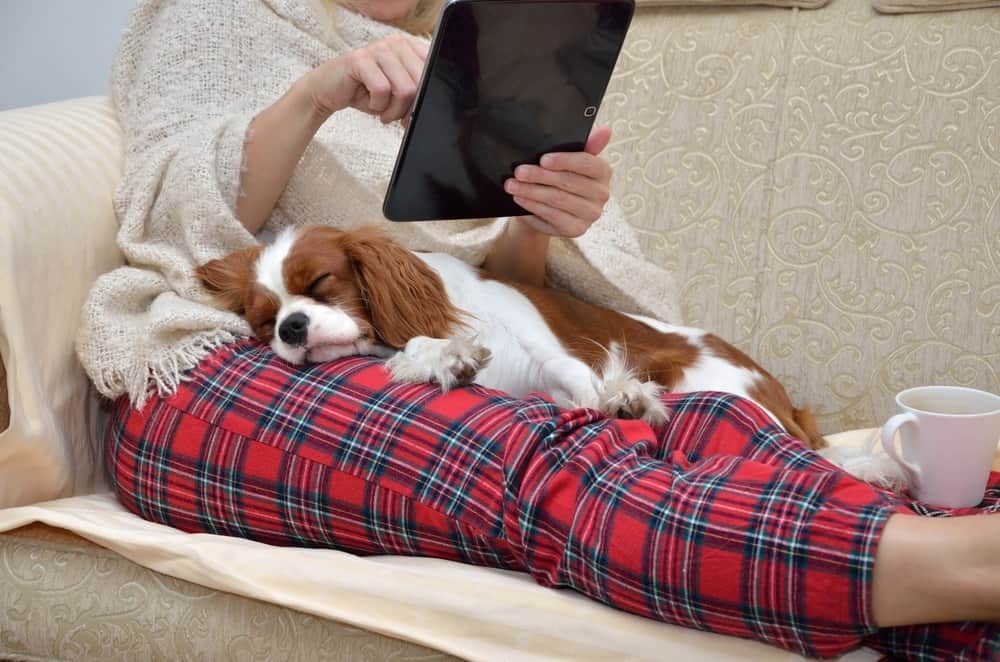 Just because you live in an apartment doesn't mean you need to rule out having a dog, even a large one! It does mean you need to do a little research to make sure your pet will be as happy with their living arrangements as you are.
When choosing a family member to share your small space, take into consideration your lifestyle, your dog's disposition, and activity level and compare those to amenities and lifestyle at your new apartment building: Does the complex offer an off-leash dog park or is it in a location that will allow for daily walks and exercise? Will a loud upstairs neighbor cause your dog to bark or will your dog be comforted knowing there are others residing nearby?
With these questions in mind, ForRent.com compiled this infographic showcasing the best small, medium, and large breeds for apartment living:

Small Dogs
Shih Tzu: Its size is small, weighing just 9 to 16 pounds, and its temperament is playful, sassy and affectionate. A shih tzu is a lap dog that prefers to be pampered. Because of its low energy, it doesn't need many trips outside, but it does need companionship. Chinese royals had them as house pets, and the little Buddha dogs were companions for thousands of years. Warning: It's long hair requires grooming.
This dog breed has made some memorable appearances on the big screen. In "Best in Show," the shih tzu calendar shoot had the dogs dressed as characters from "Gone With the Wind" and "Casablanca." Shih tzus have also been the choice of many celebrity dog owners, including Nicole Richie, Queen Elizabeth, Zsa Zsa Gabor, Bill Gates, Colin Farrell and even the Dalai Lama.
Cavalier King Charles Spaniel: Another dog breed of small-statured canines, this dog weighs just 10 to 18 pounds. Its temperament is friendly and eager to please, and it gets along well with children and other dogs. The breed dates back to British royalty and King Charles II's preference for little dogs. These spaniels respond well to training, but be forewarned that their long-hair coat requires good nutrition and care.
The breed has been featured in both movies and television shows. The leading lady from "Lady and the Tramp" was a Cavalier King Charles Spaniel. And in "Sex and the City," Charlotte adopted one and named it Elizabeth Taylor. The breed has also been the choice of many celebrity dog owners, including Ronald Reagan, Frank Sinatra, Brad Paisley, Diane Sawyer, Jennifer Love Hewitt and Liv Tyler.
Pug: Its weight is 14 to 18 pounds, and its temperament is comical and playful. But compared to other small dogs, pugs are a relatively quiet breed, which is an important consideration when living in pet-friendly apartments. Pugs can be stubborn at times, but their general friendliness makes them good city dogs.
On screen, you have seen the breed playing the roles of Frank the Pug in "Men in Black," Otis from "The Adventures of Milo and Otis" and the pug in "The Nut Job," which was voiced by Maya Rudolph. Celebrity pug owners include Paris Hilton, Jessica Alba, Kelly Osbourne, Denise Richards, George Clooney, Billy Joel, Valentino and Rob Zombie. Amazingly, the dogs span the genres from heavy metal to high fashion.
Medium-Sized Dogs
Basset Hound: A medium-sized dog, the basset hound typically weighs between 20 and 65 pounds. Its temperament is easygoing and good-natured, and the breed is recognizable by its long, floppy ears. The dogs spend most of the day sleeping and are great with kids. This cuddly breed is a natural pack animal, but be forewarned that it can be vocal.
Notably, Elvis Presley sang "Hound Dog" to a basset hound named Sherlock, and a basset hound named Flash was the sheriff's sidekick in "The Dukes of Hazzard." Celebrities that have owned basset hounds include Jennifer Lawrence, Clint Eastwood, Shakira and Marilyn Monroe.
Bulldog: With a typical weight between 40 and 55 pounds, this medium-sized dog has a temperament that is easygoing, mellow and friendly. Some say that bulldogs look like a larger pug. Typically, they are more interested in the couch than the dog park, making them a low-maintenance breed and a classic example of a city dog. Warning: It drools and snores.
You may remember Pete the bulldog, who starred in the 1994 remake of "Little Rascals," and the bulldog Gunner, who appeared in "Cheaper by the Dozen." Bulldog-owning celebrities include Michael Jackson, Brangelina, David Beckham and Adam Sandler.
Large Dogs
Greyhound: Even though a greyhound may weigh between 60 and 70 pounds, its temperament is what makes it well-suited for apartment living. This breed is typically quiet, well-mannered and eager to please. Greyhounds are surprisingly lazy and happy to spend the day on your couch. Despite being able to run at speeds up to 45 mph, it can be shy and prefers a calm household. Warning: It has a strong chasing instinct.
On screen, you've seen the breed as Bart Simpson's pet, Santa's Little Helper. Also in the film "Charlie Wilson's War," Julia Roberts' character has greyhounds. Celebrity owners include Matt Groening (creator of "The Simpsons"), Pharaoh Tutankhamen, JK Rowling and Trent Reznor.
Mastiff: This calm and good-natured breed can weigh anywhere between 120 and 230 pounds. A gentle giant, the mastiff is instinctively protective of its family. It needs regular exercise like moderate walks and visits to the park, so make sure these big guys adjust to taking the elevator in your apartment building. Warning: It slobbers and can be stubborn.
Mastiffs on the big screen include Hooch from "Turner and Hooch" and Hercules from "The Sandlot." Celebrities that have owned mastiffs include Marlon Brando, Bob Dylan, Christina Aguilera and Vin Diesel.
As one of the nation's leading online home search destinations, ForRent.com inspires renters to discover their next apartment, loft, townhouse, or condo. ForRent.com features rental listings in a user-friendly format, making finding your next home an easy exploration. Visitors to the ForRent.com blog will discover relevant information and can join the conversation surrounding home decorating style, apartment hunting tips and more. ForRent.com serves as the complete resource for renters in every part of their living experience.