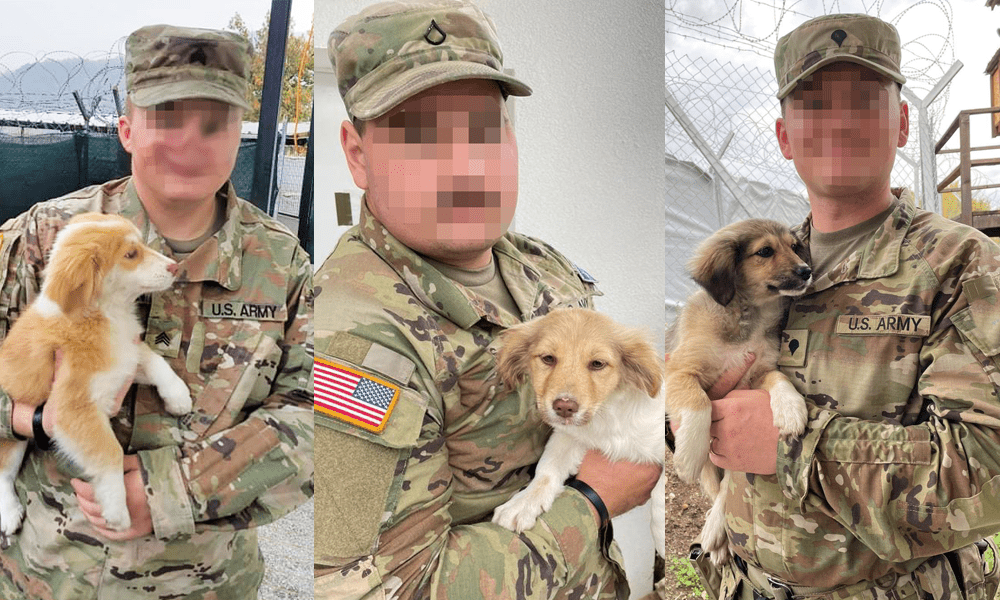 Three Soldiers, Three Puppies, Three Pleas for Help this Veterans Day
61SHARESFacebookTwitterSubscribe
"This post contains affiliate links, and I will be compensated if you make a purchase after clicking on my links."
Three soldiers stationed overseas rescued a trio of scared and hungry puppies they found dumped near their base. Now, they're trying to continue their lifesaving mission by sending the pups to their families back home.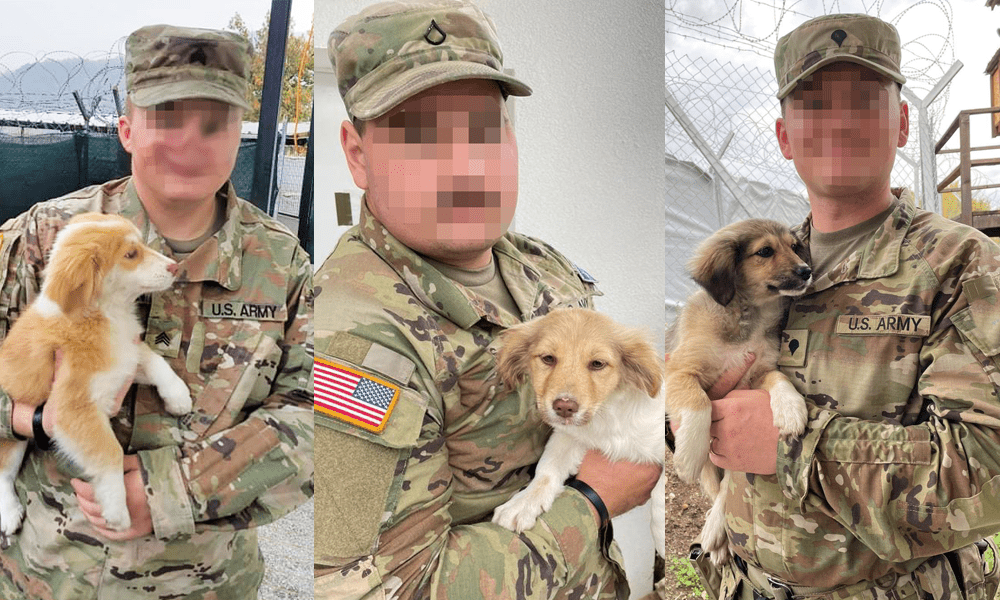 Everyone loves a puppy, and most people in America want to support those in the military. This Veterans Day, November 11, 2021, there's a meaningful way to give back to help support three Army soldiers who are desperate to relocate the puppies they rescued while serving overseas back to their families in the United States. They have reached out to Paws of War for assistance in pulling the mission off, and with the help of the community, they can make it happen.
"Those looking to show support this Veterans Day can do so by helping with this important mission," explains Dereck Cartright, a disabled veteran who is the stateside logistics coordinator at Paws of War. "People can help make three families very happy, and will ensure the safety and happiness of three adorable dogs."
While serving overseas, the three soldiers found the trio of puppies dumped alongside the road near their base. The puppies were shaking and needed food. They took the puppies in, feeding and caring for them, and the rest is history. They each "adopted" one of the puppies as their own and have bonded with them. The puppies have brought great joy to the soldiers.
Each soldier, Pfc. AJ, Sgt. Johns, and Spc. Miley, have grown tight relationships with the puppies, named Strawberry, Luna Moon, and Duchess. They have let their family members back home in the United States know that they are working to have the puppies sent back home. The family members were told on video, and the reactions were priceless, as the kids couldn't wait to have a puppy in the house.
"Duchess is hopefully going to be my son's birthday present in a few weeks," added Spc. Miley. "He already knows about Duchess and is counting down the days until he can play with her. Duchess is going to be an amazing birthday gift for him, and being able to keep her safe by relocating her back home is an amazing gift for me."
See video of the Spc. Miley's son seeing the puppy he hopes to get for his birthday:
Paws of War routinely helps soldiers to relocate rescued pets when they are stationed overseas. To be able to have a successful mission, however, it needs the support of the community. The mission comes with expenses, including travel arrangements, medical care, paperwork, etc. Those who would like to make a donation to help with this Veterans Day mission can visit the site at: pawsofwar.networkforgood.com/projects/145012-veterans-day-rescue.
Many service members stationed around the world rescue cats and dogs and become attached to them. The pets bring them peace and comfort and put smiles on their faces. Paws of War has made it its mission to help get those pets relocated back to America when the time arrives. It has helped many people to get their pets relocated following deployment.
There are difficult logistics and rules that must be followed in order to successfully relocate the puppies, including medical expenses to ensure that they are healthy and transportation expenses. The donations Paws of War receives from those in the community, no matter how small they may seem, all add up to help pull off successful missions for the soldiers. To make a donation to help rescue the puppies, visit: pawsofwar.org.
About Paws of War
Paws of War is a nonprofit 501(c)(3) charitable organization that provides assistance and a wide range of programs to active, retired and disabled military members & first responders. The War Torn Pups & Cats program helps soldiers who have rescued a dog or cat overseas, bring them to safety in the U.S. where they are companion animals for the service member. Paws of War also provides service and support dog training, veterinary care, animal adoption program, and outreach for homebound disabled veterans. Those who would like to learn more about supporting Paws of War and its mission can go online to: pawsofwar.org.