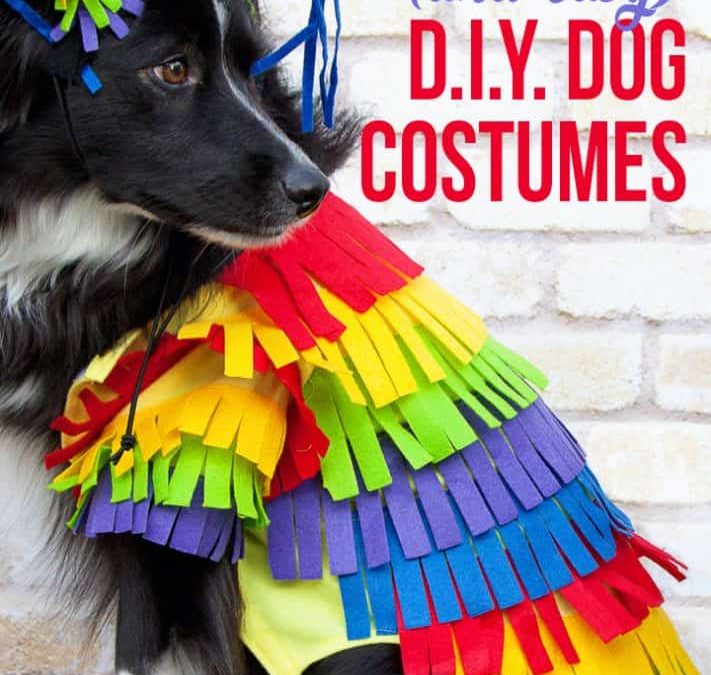 7 Adorable (And Easy!) DIY Dog Costumes
196SHARESFacebookTwitterSubscribe
"This post contains affiliate links, and I will be compensated if you make a purchase after clicking on my links."
Looking for a unique and clever costume idea for your furriest family member? While there are oodles are adorable pre-made costumes available, there's something special about dressing your dog in a one-of-a-kind costume that's made by you. Here are 7 of our favorite adorable and easy-to-make DIY dog costumes!
World's Cutest Beanie Baby
View this post on Instagram
This simple do-it-yourself costume is perfect for pups that don't care for clothes and won't tolerate the fuss of headgear. Just hand-draw or print the infamous Ty hangtag (or, buy one that's already made right here) and attach to their collar. Simple and sweet!
Piñata Pup
View this post on Instagram
Super cute on the outside, super sweet on the inside just like your dog! Craft this clever piñata pup costume by sewing or gluing strips of colorful felt to a simple and affordable dog shirt. Easy-peasy and oh so cute!
Ch-Ch-Ch-Chia!
View this post on Instagram
No watering needed to grow this hilarious Chia Pet! Just add four terracotta colored sleeves to a bundle of plastic plants (plastic aquarium plants work perfectly because they're soft, flexible and realistic).
Martini Time
View this post on Instagram
Turn a cone of shame into a cute and clever costume that's filled with spirit! Just slide two tennis ball, styrofoam, or paper "olives" (don't forget the red pimentos!) onto a lightweight dowel rod and glue inside the cone. Cheers!
Loofah Fun
View this post on Instagram
Bath time has never been so cute! Turn your precious pup into a cute and cuddly loofah. Gather, bunch, and glue or stitch lots and lots of colorful tulle onto a fitted dog t-shirt. Add a rubber ducky and a rope loop to complete the look. Good clean fun!
Scuba Dog
View this post on Instagram
This scuba dog costume is perfect for dogs that love to swim or for pet parents living in colder regions that want a costume that also keeps their pup warm! A doggy bodysuit, like the Shed Defender, works perfectly as a wetsuit. Depending on the size of your dog, small water bottles or empty 2-liter bottles painted and wrapped in electrical tape double as air tanks. A kid's snorkel set and foam cutout flippers complete the look.
A Dog in Sheep's Clothing
View this post on Instagram
Here's another easy costume that'll get a big reaction-and it's so simple to make! Just glue cotton balls over every inch of a white dog t-shirt. Wrap a cute pink bow around your dog's neck and prepare yourself for all the oohs and awws!
If you're not ready for crafting or aren't into DIY, check out this collection of spooktacular pre-made dog costumes!
Enjoyed this article? Pin it!