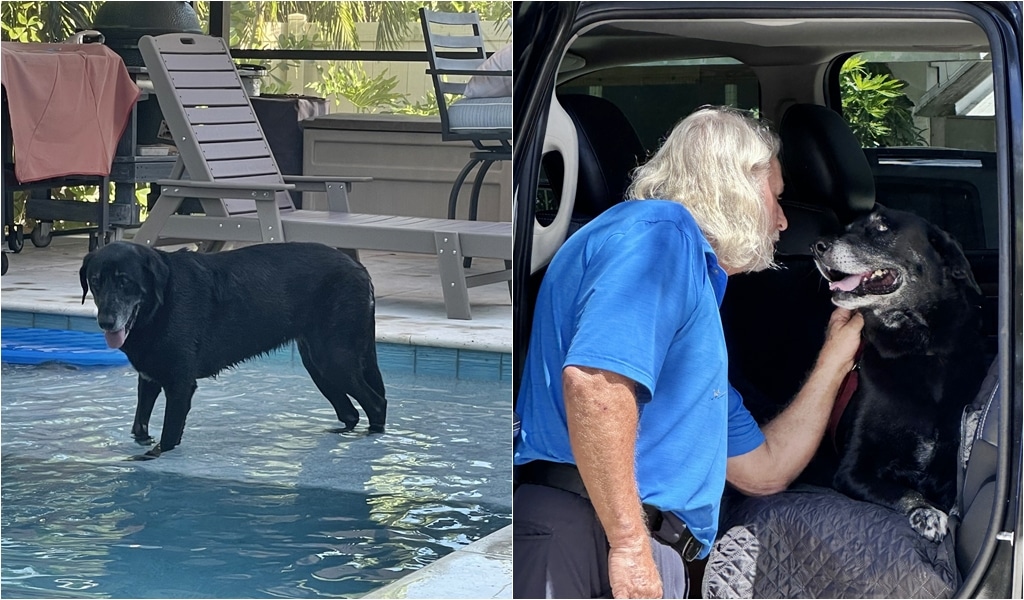 After Spending A Decade In A Shelter, Elderly Dog Now "Lives Her Best Life" In Forever Home
FacebookTwitterSubscribe
"This post contains affiliate links, and I will be compensated if you make a purchase after clicking on my links."
It's never too late to live happily ever after – And Bean, an 11-year-old black Labrador mix, who spent nearly 10 years at a Florida animal shelter and finally found her forever home, is proof of this.
Bean is the Animal Refuge Center (ARC)'s "longest resident" before Larry Denmark decided to give her a "forever foster home".
The Fort Myers animal shelter shared the wonderful news on their Facebook page on Monday, September 25.
ARC wrote, "Our longest resident has a home and wow is she happy!" and shared a few photos of Bean living her best life and with her new owner, Larry.
The animal shelter reveals, "Bean spent almost ten years at ARC before Larry Denmark saw her photo on the website and started coming to the shelter to spend time with her. They became fast friends."
In ARC's website, Bean is described as "an extremely loving, affectionate and intelligent girl."
Her story also reads, "She knows many basic commands. She definitely needs to get to know you first, which means we'd like you to visit her at least a few times before making a decision regarding adoption."
Furthermore, Bean has shown interest in cats and most definitely DOES NOT like children. ARC said they are not sure what happened in her past to cause this dislike.
But ARC assured that, "If she loves you though, she loves you forever."
ARC thanked Bean's new owner and all the staff and volunteers that helped Bean find her forever home. The animal shelter wrote, "Thank you Larry! Thank you to the staff and volunteers that spent so much time getting Bean ready for this opportunity. We will miss her couldn't be more excited to see Bean living her best life."
ARC has featured Bean in their social media pages countless of times to help her find a forever home.
In a Facebook post back in 2020, ARC even wrote, "We promised her, that her ideal home is out there, somewhere. And we'll never give up that search."
The animal shelter never gave up on Bean, kept their promise to her three years later, and now Bean gets her happily ever after.
Welcome to your forever home, Bean!
While Bean has found her forever home, part of the reason why it may have taken it this long for her to get adopted is because of Black Dog Syndrome or BDS.
BDS is a phenomenon in pet adoption where black dogs, regardless of breed, personality, age, and size, are ignored in favor of their light-colored peers.
However, black dogs are as fun, loving, and loyal companions as any other dog out there. And Bean is one of the many black dogs that showcases how true this is!