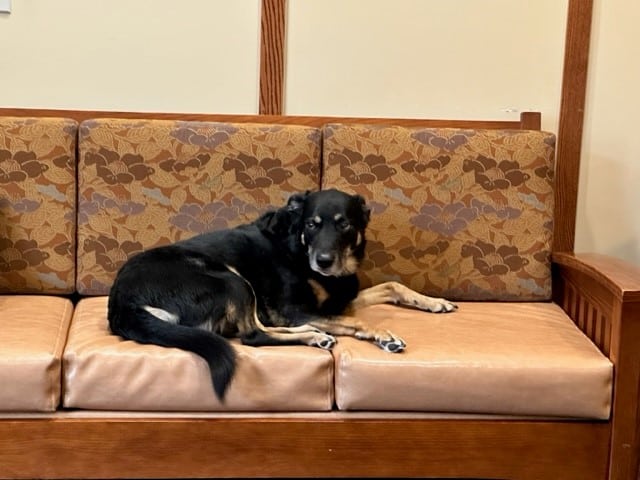 Dog Who Repeatedly Sneaks Out Of Shelter To Visit Nursing Home Gets Adopted By The Facility's Staff
FacebookTwitterSubscribe
"This post contains affiliate links, and I will be compensated if you make a purchase after clicking on my links."
An escape artist of a dog from a local Michigan animal shelter thinks he was better suited at a senior care facility than the shelter.
Scout, the mischievous pooch, repeatedly sneaked out the shelter to visit Meadow Brook Medical Care Facility, a nearby nursing home, in 2017.
Today, Scout has become the nursing home's resident dog and was formally adopted by the staff at the Meadow Brooks Medical Care Facility.
According to the Detroit Free Press, the first time Scout did it, he went over tall fences, crossed a busy highway, entered the automatic doors of the nursing home, and hopped on the couch to sleep and call it a day.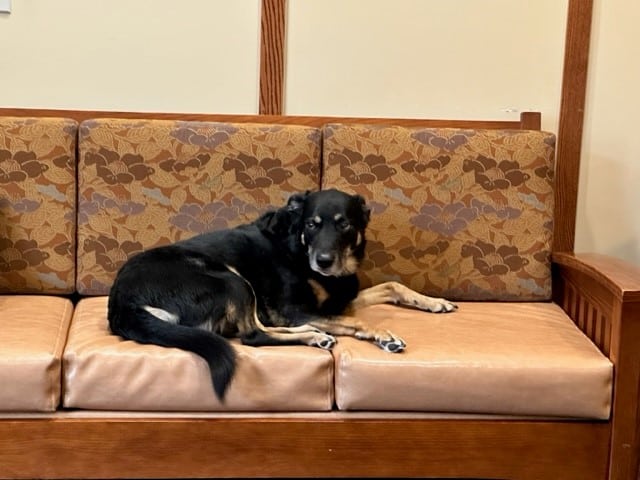 The next morning, a nurse found him and called the local Michigan shelter, Antrim County Animal Control. The shelter then realized, they were indeed missing a dog.
But being returned to the shelter didn't stop Scout. He was determined and went back again the next night, and a couple of nights after.
Marina Robertson, the nursing home's administrator, said, "He did that one time, two times, three times, and obviously that's something that you should pay attention to. And I asked the staff, 'Well, he wants to be here. Would anybody like to have a dog?\'"
"I'm a person who looks at outward signs, and if it's meant to be, it's meant to be," Robertson continued.
To say the residents at the facility were delighted was an understatement. Rhonda Thomczak, administrative assistant at the facility's Glacier Hill residences, said, "I think it reminds them of being home."
Scout's history is a little heartbreaking. The Detroit Free Press reported that before coming to the shelter, Scout had no history nor identity. His name was given to him by a shelter staff and they knew nothing about him.
However, the shelter noticed that Scout had the demeanor of an abused dog. And apparently, someone even shot him with BBs or birdshot.
The nursing home staff believe that the reason Scout chose the Meadow Brook Medical Care Facility is because of the facility's 'safe environment'.
Today, Scout has free rein of the nursing home and staff discovered that he has a penchant for the elders. He wanders the halls, lies down whenever and wherever he wishes, and when he's in the mood for it, visits the residents.
The pooch learned how to open and close doors and even knows which residents keep dog biscuits for him.
But don't be fooled by Scout's mischievousness, because he takes his role and job very seriously! Robertson reveals, "If they [the residents] have dementia or if they're dying he knows that, and he will go and be with them and comfort them. He must've just felt like he needed to be here."
The pooch also checks on his hoomans to ensure their safety and knows a stranger when he sees one.
"I think he knows that this is his home and he is all of ours, so that gives him a sense of security," Thomczak said.
And even though Scout escaped from the shelter he was kept in, he still is able to give back to them through a fundraiser that the nursing home arranged in his name called 'Scout's House Paws for the Pantry Fundraiser'.